Course details
Student Limited 【Chasing Computer, Graduation Con, Bonenkai】 Private Charges for 3,500 yen 3H Drink All-you-can-eat All 20 people ~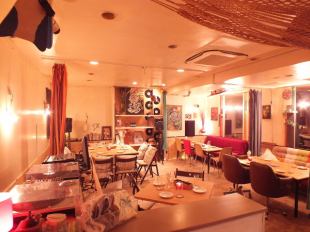 All-you-can-drink available

Beer · Cocktail Others Various drinks All you can drink ☆ (All-you-can-eat all orders will be 30 minutes ago, please understand)
Reservation deadline

Until 23 o'clock the day before the store visit date
Available days for reservation

Monday - Sunday - Public holidays - Holidays
Budget is 3,500 yen! It can be used for any scenes such as circle's conquest, graduation con, launch ★ It is recommended for those who want to rent out with 3H free drinks as much ♪ And as you can eat any food as much as you like, ♪ full of accounting There is no fraction, ♪ easy chin ♪ Because it is charter, you can use microphones and projectors, make favorite songs with i - phone etc and enjoy it without worrying about other customers' eyes!
Course menu
When you arrive, first
"Cheers ~!" "I was fine!"
From there to color the table ,,,
◆ Snack
Tortilla chips
Shrimp tip
(Crisp polypoly, the story stretches while reaching out!)
◆ Salada
Colorful vegetable green salad
(Women love salads after all)
◆ Fried
French fries
★ ★ ☆ ☆ And the strengths unique to PROVE from here ★ ☆ ★ ☆
◆ Fish
California style seafood plate
(California cuisine made by a full-fledged Italian chef! Seafoods rich in minerals are okay !!)
◆ Meet
Spicy devil chicken ~ plenty of vegetable sauce ~
(Main dish, meat dish ★ ☆ Recent ladies actually like meat than fruit !?)
◆ Main
Taco rice with tomato and cheese
(Shime is everyone's favorite taco rice, stomach and heart are full!)
【All you can drink here】
● Draft beer
● More than 100 cocktails
● Shochu variety
● Red wine wine
● Whiskey
● Sake
Plum wine
● Soft drinks
All-you-can-drink menu
·beer
·draft beer
·Cocktail
· 100 kinds or more
· Shochu
· Potato · wheat · various rice
·whisky
Various
·Soft drink
Various
2018/12/04 update