Course details
【Private room × relaxing on a soft sofa ☆ girls' party course ☆】 3h with drinks with 8 items 3780 → 3500 yen !!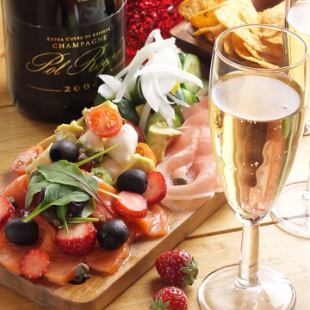 By using a coupon3500 yen
One hour extension is +1000 yen OK!
All-you-can-drink available

Beer · cocktail rich drinks all you can drink ☆
Available days for reservation

Monday - Sunday - Public holidays - Holidays
Girls' Association Needs 3 Hours After All ☆ With Absolutely Dessert ♪ Enjoy a girls' party which is perfect for such women ♪ Please enjoy the relaxing girls' party at the sofa seat of the atmosphere ☆ Private room up to 8 people ♪ WaiWai Women's Association! A course that is perfect for welcome reception and various banquets ☆
Course menu
3 H All you can drink + 8 foods (All-you-can-drink last order is 30 minutes ago)
(I will color the table with a chef's prideful meal for a nice time!)
<Food example>
◆ Snack
Tortilla chips, shrimp tip
(Please wait a while for delicious carpaccio to come with crisp and crispy snacks.)
◆ Carpaccio
Smoked salmon and tomato carpaccio
(In the course, lavishly salmon carpaccio.Tomatoes are very delicious when added!)
◆ Salada
Caesar salad with bacon half-baked egg
(Mature roasted eggs in bacon of Kaligakari.A luxurious dish!
◆ Fried
French fries
Potato with garlic butter is a popular menu of our shop!
___ ___ ___ ___ 0 ___ ___ ___ 0
Full-fledged Italian chefs give out the California-like cuisine with arms!
◆ Fish
California style seafood plate
Place the original sauce on the sea food of sea mineral plenty!
◆ Meet
Spicy devil chicken ~ plenty of vegetable sauce ~
Main dish is devil chicken! It's the most popular menu as well!
◆ Pasta
Today's whimsical pasta or tomato and cheese taco rice
◆ sweets
Chef's whimsical sweet ♪
All-you-can-drink menu
·beer
·draft beer
·Cocktail
· More than 50 kinds
· Shochu
· Potato · wheat · various rice
·whisky
Various
·Soft drink
Various
Coupons that can be used with this course
2019/01/18 update